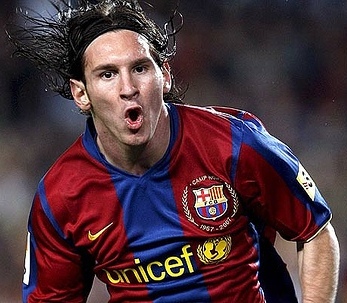 Very, is the simple answer here.
Yet another formidable performance from the Argentinian magician against English Champions Manchester United at Wembley in the Champions League Final saw his club Barcelona cruise to a 3-1 win at the hands of the Manchester club.
The win propelled the Spanish giants to super-stardom, that's if you have been living on Mars for the last few years that is!!!
The victory saw Barca notch up their fourth European Cup victory, this followed them winning their third consecutive domestic title, beating their bitter rivals Real Madrid into second again.
Now I watch a lot of Football and I am now starting to run out of superlatives for this current Barcelona side, just the sheer dominance of the past couple of season speaks volumes but here I am going to spell out just how influential and consistent the jewel in their crown is, the one, the only, Lionel Messi.
I heard some rumours about the chance of Cristiano Ronaldo being touted around for the extraordinary price tag of £150 million!!!!! Yes you did read that right, £1 5 0 M i l l i o n.
Now I'm not his biggest fan but I certainly can appreciate the class of the man, he really is something special, but, he is half the player Messi is, so if Ronaldo is worth £150 million, just how much would Messi be worth???
Obviously he won't be going anywhere, but you must be thinking in the region of £200 million if the tariff has been set with the Ronaldo price. There are so many reasons why he would command more money, here are but a few......
He IS consistent.
He scores goals.......consistently.
He works his socks off for 90mins EVERY game.
He never sulks.
He has bundle's of skill & an end product.
Ronaldo has a couple of these qualities but if you are forking out some serious cash for either one of these players, both of which have been billed as 'The Best Player on Earth', I certainly know which one I'd be contacting and begging them to join my ranks.
So Messi IS the best in the world, I can't find any other reason at all to think otherwise, but how does he compare to the Greats of years gone by????
In my un-professional opinion the Greatest player ever is Pele, run close by Maradona, Zinedine Zidane and George Best.
These four players were once the dominant figure's of the footballing world.
George Best was probably the best example of pure Natural enjoyment of the game, personified. Unbelievable close control, wizardry, and of course could finish the moves or runs off in considerable style. The only disappointment for him was that hailing from Northern Ireland he never got the chance to perform on the World's greatest stage, The World Cup, but he certainly performed everywhere else he could, even off the pitch which was perhaps his own downfall.
Zidane was for the want of a better word 'Mecurial'. He floated around the pitch with such ease it was breathtaking, mixed in was the skill's, trick's and flicks that every supporter wants to see, unless it was against your team and even then you have to applaud. He could also add goals to his armour through either foot and indeed his head, but for Zidane his greatest moment came playing for Real Madrid at Hampden Park in the Champions League Final in 2002 where he performed the most perfect of volley's even then most picky of technique hunters couldn't argue with. Sadly his career ended in controversy as he was sent off for the 'infamous' headbutt in the 2006 World Cup final on Italy's Marco Materazzi, but this was after Zidane became only the fourth player in history to score in two different World Cup Finals.
Maradona needs no introduction, especially if you are English, but the little Argentinian was undoubtedly a Genius when it came to football. For English fan's he will ALWAYS be remembered for the 'Hand of God' goal in the 1986 World Cup Quarter Final. But if you delve past this controversial moment you will also find the 'Goal of the Century' in the same game by the enigmatic Maradona. It truly was one of the best goals ever and it wasn't the only goal like that he scored I'm sure. Again close control, trickery galore and goals to boot. As with the previous 'Great's' his career veered towards self destruct as in 1994 in U.S.A World Cup he was sent home in disgrace for failing a drugs test.
Last but be no means least, in my opinion, the GREATEST PLAYER of ALL TIME....
Edison "Edson" Arantes do Nascimento.......of better known to the masses as PELE.
The Brazilian wonder was the epitome of everything a footballer should be, power, pace, skill's never seen before, passes from heaven, idea's worthy of coming from Einstein, and all rolled into a 5ft 8" man from Tres Coracoes in Brazil.
He made his mark in his home country before blowing the minds of the footballing world when he was an un-known 17 year old, announcing to the world the next generation of footballer to everyone. Skills that the European game had never thought possible, and all from this youngster from Brazil.
His career was only just beginning, and without writing his entire career out for you guys, because believe me I would be here all day, I'll sum it up......1,281 goals in 1363 games.....
Any player that has a record like this I think it speaks for itself......
So where does Lionel Messi rank in amongst all of these illustrious names?????
Given he is only a mere 23 years of age at present, he has already won five La Liga Title's, three Champions League Winners medals, scoring in two of the three, and he also became the youngest player ever for his National Team in 2006.
Clearly there is plenty more to come from Messi, I already rate him in my personal top three, those being Pele, Maradona and now his compatriot Messi, but I certainly believe that he is more than capable of at least over-taking Maradona in that list.
It is obvious that to try and compare Messi to Pele, as they are separated by nearly 50 years, the game has changed so much, most of it due to the Brazilian, especially the beautiful football that is now the Holy Grail for so many club's, one that I personally think Messi's current side has now found.
So I now leave the final judgement to you, just how good IS Lionel Messi, my verdict....not bad at all....